Rutherford Reader
Caps TVA CEO Pay at $500k
The Associated Press by Zeke Miller
WASHINGTON, D.C. (AP) — President Donald Trump said Monday that he had fired the chair of the Tennessee Valley Authority, criticizing the federal-owned corporation for hiring foreign workers.
Trump told reporters at the White House that he was formally removing chair Skip Thompson and another member of the board, and he threatened to remove other board members if they continued to hire foreign labor. Thompson was appointed to the post by Trump.
The TVA is a federally owned corporation created in 1933 to provide flood control, electricity generation, fertilizer manufacturing and economic development to the Tennessee Valley, a region that was hard hit by the Great Depression. The region covers most of Tennessee and parts of Alabama, Mississippi and Kentucky as well as small sections of Georgia, North Carolina and Virginia.
He also said the TVA board must immediately hire a new chief executive officer who "puts the interests of Americans first." According to Trump, the CEO, Jeff Lyash, earns $8 million a year.
"The new CEO must be paid no more than $500,000 a year," Trump said. "We want the TVA to take action on this immediately. … Let this serve as a warning to any federally appointed board: If you betray American workers, you will hear two words: 'You're fired.'"
Trump said the authority was replacing many of its in-house technology workers with contractors who rely heavily on foreign workers under the H1-B visa program for highly skilled workers.
"All TVA employees are U.S. based citizens," said authority public information officer Jim Hopson. "All jobs related to TVA's Information Technology department must be performed in the U.S. by individuals who may legally work in this country."
"As a federal corporation, TVA's Board members serve at the pleasure of the President," Hopson added.
As Trump was meeting with workers who would shortly be laid off by the authority, Trump was passed a note from chief of staff Mark Meadows that said Lyash had called the White House and was promising to address the labor concerns.
Trump acknowledged that he was made aware of the issue after seeing a television ad produced by U.S. Tech Workers, a nonprofit that wants to limit visas given to foreign technology workers, that aired in primetime on Fox News.
The group, led by Kevin Lynn, criticized the TVA for furloughing its own workers and replacing them with contractors using foreign workers with H-1B visas. The ad, Lynn said, had an "audience of one," aiming to persuade Trump to stop the TVA from outsourcing much of its information technology division.
Trump made the announcement as he signed an executive order to require all federal agencies to complete an internal audit to prove they are not replacing qualified American workers with people from other countries. The White House said the order will help prevent federal agencies from unfairly replacing American workers with lower cost foreign labor.
The order followed the TVA's announcement that it would outsource 20% of its technology jobs to companies based in foreign countries. TVA's action could cause more than 200 highly skilled American tech workers in Tennessee to lose their jobs to foreign workers hired on temporary work visas, according to the White House.
But Republican Sen. Lamar Alexander of Tennessee said the TVA doesn't get any taxpayer money. Commenting on the issue in April, Alexander said the White House was spreading misinformation. He said that TVA chief executive officers' pay is lower than other large utilities and that TVA energy rates are among the lowest in the nation.
 Zeke Miller is a reporter with The Associated Press.
Rutherford Reader
Ad promising nuclear bomb from islam in July based on 'Bible prophecies'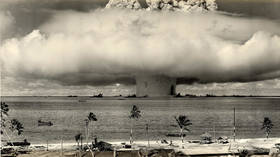 The Tennessean has found themselves in hot water on social media and apologizing following a paid advertisement in their newspaper promising Islam will drop a nuclear bomb on the city of Nashville on July 18.
"Dear citizens of Nashville," the full-page ad read. "We are under conviction to not tell you but provide evidence that on July 18, 2020, Islam is going to detonate a nuclear device in Nashville, Tennessee." 
Included above the text is an image of President Donald Trump and Pope Francis with burning US flags behind them. In small print above the image is the label "paid advertisement."
The text is signed "The Ministry of Future for America" and readers are directed to go to www.july18.news, a site "dedicated to identifying" the upcoming July 18 nuclear attack, which they say through posts is based on "prophetic revelations from the Bible."
Many screenshots of the extreme ad were uploaded to social media where some quickly went viral, with users expressing outrage at the idea of a newspaper printing the ad next to real news and calling for boycotts against the paper, as well as saying they may be inciting violence against Muslim citizens.
After thousands of tweets, the Tennessean responded to criticisms by releasing a statement apologizing for the advertisement and promising they are "investigating how a paid advertisement from a fringe religious group was published on Sunday in violation of the newspaper's long-established standards."
The statement calls the ad "bizarre" and admitted it was "hate speech."
The company's editor and vice president, Michael A. Anastasi, said it should not have been approved and its publication is proof of a "breakdown in the normal processes."
"It is wrong, period," he said, "and it should have never been published."
The newspaper's investigation into the breakdown of its own processes has not earned much confidence back as many mocked the internal probe and questioned the paper approving such an ad
Reporters from the newspaper also took to Twitter to distance themselves from the Tennessean's decision to run the ad.
Rutherford Reader
Are you a Tennessean who loves dogs, wants to support disabled veterans and would like to sport an inspiring specialty license plate on your vehicle? Then, Smoky Mountain Service Dogs needs your help to meet its goal of pre-selling 1,000 specialty plates this summer.
Smoky Mountain Service Dogs (SMSD), located in East Tennessee, trains mobility assistance service dogs for veterans with service-connected physical and psychological disabilities. The nonprofit has helped veterans, such as retired U.S. Army First Sgt. Charles Stewart, regain their lives.
Stewart served 26 years and participated in seven combat tours. He is a 100 percent Veterans Affairs disabled veteran with post-traumatic stress disorder (PTSD). Smoky Mountain Service Dogs trained and provided Sadie, a Labrador Retriever, for Stewart.
"Sadie gives me confidence and the ability to be more mobile through her mobility assistance and calms me during my PTSD episodes," Stewart said. "I find myself having structure back in my life just being with her 24 hours a day. My family has seen the change in me as my wife has commented that I show sides of me before I was ever in the service. I am truly blessed to have gone through this experience with Smoky Mountain Service Dogs."
To purchase the plate and help SMSD train more dogs for wounded veterans, visit www.smokymountainservicedogs.org . The nonprofit is an all-volunteer organization except for professional trainers so 95 cents of every dollar donated goes directly to the organization's mission. It costs approximately $25,000 to train one mobility assistance service dog which the organization places with a deserving veteran at no cost to the veteran. Smoky Mountain Service Dogs relies on grants, donations and fundraisers for operating expenses, and SMSD is accredited by Assistance Dogs International as the only accredited service dog organization located in Tennessee.
"To see the loving bond that develops between a veteran and his or her beloved service dog is extremely gratifying," said Suzy Kitchens, co-founder of Smoky Mountain Service Dogs. "With a service dog by their side, veterans' lives and their families and communities are changed forever because the veteran can finally acclimate back into society after experiencing what most of us Americans will never truly understand.
"These magnificent, highly trained mobility assistance service dogs are the hands and feet of their recipients and provide unconditional love and support. Please help us to continue to serve wounded veterans by taking Smoky Mountain Service Dogs on the road with you by purchasing one of these beautiful specialty plates."
SMSD service dog in training, Gunner and the Specialty plate design.
Rutherford Reader
NASHVILLE, Tenn. – State Rep. Tim Rudd, R-Murfreesboro, this week announced legislation that will create a pathway for families and people with the most severe and violent cases ofmental illnesses to access treatment.
The "Violent Mental Health Care Reform Act of 2020" (HB969 / SB1344) would create a process for a parent, legal guardian, spouse, responsible relative, physician, or law enforcement to petition a court to order treatment when a person is determined to pose a serious threat of violence to others. Research shows a very strong correlation between untreated severe mental illness and violence.
"There are almost no options available when an individual is experiencing a mental health crisis and threatening violence against others. This legislation gives our judges another tool to help people with serious mental illness get treatment before they commit a violent act," said Rudd.
The Violent Mental Health Care Reform Act of 2020 would only be applicable in 14 Tennessee counties that currently have a Mental Health Court, but could be expanded later. The law would allow a judge to order an evaluation by a licensed psychiatrist who would determine if the individual meet criteria for hospitalization or treatment. It would only apply to individuals who make multiple threats of violence.
The law also provides protections for the rights of individuals believed to be experiencing a mental health crisis and guarantees them the right to counsel.
"We've seen evidence of people who desperately needed treatment for severe mental illness fall through the cracks time and time again and then what tragically resulted was a hate crime or mass shooting or other heinous act of violence," Rudd said. "We must act now to advance meaningful mental health reform that will provide safeguards and resources for families who are struggling to intervene when a loved one is in desperate crisis. We cannot afford to wait any longer to enact legislation that will save lives by helping to prevent these kinds of tragedies."
Tim Rudd serves as chairman of the Elections & Campaign Finance Subcommittee. He is a member of the House Insurance, and House Local Committees, as well as the House Property & Casualty Subcommittee. Rudd lives in Murfreesboro and represents Tennessee House District 34, which includes a portion of Rutherford County.
Rutherford Reader
State Rep. Mike Sparks, R-Smyrna, has proposed legislation lowering health care costs and while saving millions in taxpayer dollars.
The state health insurance plan which covers state employees, teachers, and higher education employees cost $1.6 billion in 2018, according to the Tennessee Department of Finance and Administration.
As amended, House Bill 1366 would require the State Insurance Committee to contract with an entity that provides each enrollee with information online about the cost and quality of health care services and providers. It passed overwhelmingly in the State Committee on June 4.
"This legislation would allow our state employees more options to shop around and compare health care services and providers and rewards them by sharing savings generated by the enrollees' choice of health care service and providers," Sparks said.
Estimates show health care costs could be reduced by about 6 percent or $96 million for approximately 300,000 individuals who receive coverage through state, local education and local government plans, Sparks said.
"This savings could be used to reduce premiums and out of pocket costs for state employees and teachers, while improving choice of providers. This is a win- win for taxpayers and our state employees at a time when we're all trying to save every dollar we can," Sparks said.
Mike Sparks represents the 49th House District which includes part of Rutherford County. He serves as chairman of the Consumer Subcommittee. He is a member of the Consumer and Human Resource Committee, the Insurance Committee, the Property and Casualty Committee and the Naming, Designating & Private Acts Committee.   
Rutherford Reader
(Washington, D.C., June 4, 2020) – U.S. Secretary of Agriculture Sonny Perdue today announced the USDA Farm Service Agency (FSA) has already approved more than $545 million in payments to producers who have applied for the Coronavirus Food Assistance Program. FSA began taking applications May 26, and the agency has received over 86,000 applications for this important relief program.
"The coronavirus has hurt America's farmers, ranchers, and producers, and these payments directed by President Trump will help this critical industry weather the current pandemic so they can continue to plant and harvest a safe, nutritious, and affordable crop for the American people," said Secretary Perdue. "We have tools and resources available to help producers understand the program and enable them to work with Farm Service Agency staff to complete applications as smoothly and efficiently as possible and get payments into the pockets of our patriotic farmers."
In the first six days of the application period, FSA has already made payments to more than 35,000 producers. Out of the gate, the top five states for CFAP payments are Illinois, Kansas, Wisconsin, Nebraska, and South Dakota. USDA has released data on application progress and program payments and will release further updates each Monday at 2:00pm ET. The report can be viewed at farmers.gov/cfap.
FSA will accept applications through August 28, 2020. Through CFAP, USDA is making available $16 billion in financial assistance to producers of agricultural commodities who have suffered a five-percent-or-greater price decline due to COVID-19 and face additional significant marketing costs as a result of lower demand, surplus production, and disruptions to shipping patterns and the orderly marketing of commodities.
In order to do this, producers will receive 80 percent of their maximum total payment upon approval of the application. The remaining portion of the payment, not to exceed the payment limit, will be paid at a later date nationwide, as funds remain available.
Getting Help from FSA
New customers seeking one-on-one support with the CFAP application process can call 877-508-8364 to speak directly with a USDA employee ready to offer general assistance. This is a recommended first step before a producer engages the team at the FSA county office at their local USDA Service Center.
Rutherford Reader
Lynchburg Music Fest carries momentum despite COVID-19. LMF announces a new venue for this year's festival entitled, "Music Hollow." The farm is located in the south of the county filled with spacious fields and beautiful landscape. 
"The new venue has been confirmed, and we are super excited about all the positive changes this will bring to Lynchburg Music Fest.  Music Hollow, the new home place of Lynchburg Music Fest, is a farm that will allow us to have everything on one site with plenty of space to grow.  We can't wait for everyone to see it," said Jonny Hill, owner of Igniter Productions and Lynchburg Music Fest. 
The festival also announces that an additional day, Sunday, October 4, will be added to complete the weekend. The new official dates are as follows: October 2-4. Gates will open at 5pm on Friday night for the Igniter Productions artists to perform songs from their new albums. The weekend will commence with a performance from Kip Moore on Sunday night. 
Kip Moore –  the American country singer-songwriter composed "Barefoot Blue Jean Night" by Jake Owen, "Cigarette" by Frankie Ballard, "Headlights, Taillights, and Radios" by Tracy Lawrence. He also co-wrote Jake Wesley's 2012 single "Walking Contradictions," two tracks on Thompson Square's self-titled debut album: "All the Way" and "Let's Fight."
His debut single "Mary Was the Marrying Kind" hit no.45 on Billboard's Country Singles chart. The release of his second single "Something Bout a Truck" and debut album "Up All Night" achieved no.1 on the Billboard country charts and hit platinum status. His new single  "Red White Blue Jean American Dream" was released on May 15, 2020.
"We are thrilled to be bringing on Kip Moore as our Sunday night headliner for this year's festival. We started Lynchburg Music Fest with the goal of highlighting amazing singer-songwriters and few people exemplify that better than Kip!" said Lynchburg Music Fest owner, Jonny Hill.
Additional artists and full lineup to be announced soon.
Camping is on sale as of Monday, May 19, 2020. Tickets can be purchased through the Lynchburg Music Fest website.
Craig and Wheeler Realty and Auction is also confirmed as a sponsor for Lynchburg Music Fest this year.
The inaugural Lynchburg Music Fest was a two-day music and camping festival on August 23 & 24 and featured dozens of country and bluegrass bands on three stages in beautiful Wiseman Park in historic Lynchburg, TN. This year it will take place October 2-4.
Rutherford Reader
Governor Lee Lets Nashville Government Continue to Spin Out of Control
by Pat Hamsa, via dailyrollcall.com
Between being broke with big debt service, and an insatiable blue wall of protection for illegal aliens and resettling refugees reliant on public assistance programs like TennCare, Bill Lee continues to abet the Nashville island of resistance which threatens the stability of Tennessee.
In November 2019, the Tennessee Comptroller's Office reviewed and rejected Nashville's budget, threatening to take over if they couldn't figure out how to address the years of irresponsible over-spending. According to the Comptroller, "Metro's expenses have outpaced the city's revenue growth since 2013, according to Wilson. To accommodate those increasing expenses, city leaders have been depleting Metro's available cash and reserve funds, which are down 24% and 16% respectively."
Davidson County is pretty much the cash cow for the state's different tax collections.
Today, despite the multi-millions of dollars invested in Nashville by state taxpayers, the city is broke and in debt. Today, Nashville has no rainy day fund and it's debt service consumes a mammoth portion of revenue. The mayor is proposing a sky-high property tax increase, the pro-illegal-immigration-mayor-in-waiting Bob Mendes who chairs the council's budget committee, is proposing an even bigger tax increase, and socialist council member Zulfat Suara has suggested increasing the county's debt burden by borrowing more money.
During the worst public health and economic crises faced by Tennessee, Bill Lee has taken a hands-off approach to Nashville letting its far left mayor and city council continue their inept and destructive management of the county.
Lee made this decision even though the state's liberal Attorney General opined that state law allows the governor to exercise broad power over the local governments during emergencies. Instead, Lee agreed to giving names of COVID positive people to law enforcement.
The Nashville Metro Council now wants to require whoever they determine are essential workers, to wear masks. Will that get another thumbs up from the governor?
While the majority of Tennessee counties were released from the governor's "safer at home" order on April 30th, Lee allowed Chattanooga, Memphis, Nashville and three other counties to make their own decisions. Nashville's mayor is taking an overly long route to reopening the county in a four-phased plan with each phase mandated to achieve his seal of approval before moving to the next phase.
WalletHub's calculated (using U.S. Bureau of Labor Statistics data) that unemployment in Nashville increased 5% since January 2020 due to COVID and was at over 7% in March 2020 as compared to March 2019. Nashville, Chattanooga and Memphis were also ranked among cities with the highest unemployment increases due to COVID. 
Nashville's we-hate-police Community Oversight Board's recent report documents that 31,000 illegal aliens are living and working in Davidson County.
WalletHub's state rankings of COVID unemployment increases, put Tennessee at 22 since the start of COVID in March, and at 18 of being the most impacted for unemployment since May 4, 2020. 
It's estimated that over 8,000 illegal aliens who have qualified for work permits through Obama's unconstitutional DACA program are living and working in Tennessee.
A 2017 Federation for American Immigration Reform (FAIR), estimate puts the cost of illegal immigration to Tennessee taxpayers at $793 million dollars. The NAE report says that illegal aliens come to Tennessee to work.
The alleged non-partisan Partnership for a New American Economy (NAE) which churns out reports and "data" advocating for increased legal immigration and amnesty for illegal aliens because these workforces are essential to the American economy. Their 2016 report (latest available), states that as of 2015, approximately 26,634 "likely refugees" were residing in Tennessee.
NAE, the Koch brothers Americans for Prosperity Tennessee lobbyist and TIRRC also like to push the false economic-enhancing narrative of legal immigrants like refugees and illegal aliens. Tennessee's AFP lobbyist Tori Venable and the leader of LIBRE, the Koch's "premier pro-mass immigration organization," co-wrote an oped titled, "Common ground is possible even when it comes to immigration."
And they chose to focus on Nashville "because it's a hub for tourism, commerce and innovation."
Nashville is a hub alright and right now that hub is broke with high unemployment and "is projected to lose $470 million in revenue over the next 16 months, including more than $200 million in the next fiscal year, which starts July 1."
Tennessee's Comptroller appears to be monitoring Nashville but it's not clear whether the governor and/or his advisors are reading the Metro tea leaves.
Rescinding his consent for continued refugee resettlement which is expected to begin again very soon, would make unemployed Tennesseans have a small measure of confidence that their needs are first before Bill Lee's personal agenda.
Governor Lee has assured legislators that they will have revenue data to help them decide about budget cuts when they reconvene for a very very short session beginning June 1. Lee's commitment to continuing refugee resettlement means that the costs of the federal program will continue to be involuntarily transferred to state and local governments.
If the governor can't be counted on to put Tennessee citizens first, then the legislature can by passing the Gant/Bell bill which will put the decision-making about refugee resettlement in the hands of the legislature.
The Speaker of the House and Senate will decide which bills will be heard.
Contact Lt. Gov. Randy McNally 615-741-6806 and House Speaker Cameron Sexton 615-741-2343 and ask them to pass the Gant/Bell bill.
Call the Governor and tell him to start working with the legislators and not against them and the voters who gave him the privilege of serving them – 741-2001 or email him https://www.tn.gov/governor/contact-us.html
Rutherford Reader
West TN Republican running for State Senator–
by Pat Hamsa
As tracked and reported by Refugee Resettlement Watch, EMM is 99.5% funded with taxpayer dollars. That means that you the taxpayer help pay the salaries of St. Francis lobbyists like Walley. Just think, if he wins the Senate seat, taxpayers can double their payments! 
And like the other refugee resettlement profiteers, they have opposed President Trump's reduction in refugee admission numbers. Maybe because the federal refugee program has historically been a cash cow for NGOs, EMM goes after any opposition to refugee resettlement. After Texas said no to continued refugee resettlement in response to the President's Executive Order, the Episcopal Church "condemn[ed] Governor Abbott's decision.
Unlike some of the other federal refugee contractors, EMM and its Government Relations (ie, lobbyist), are part of the Episcopal Church – "The Office of Government Relations represents the policy priorities of The Episcopal Church to the U.S. government in Washington, D.C. We aim to shape and influence policy and legislation on critical issues, highlighting the voices and experiences of Episcopalians and Anglicans globally. All policy positions are based on General Convention and Executive Council resolutions, the legislative and governing bodies of the Church."
Walley's job description sounds all warm and fuzzy and his campaign issues which pretty much sound like everyone else's, include the usual anti-illegal immigration and pro legal immigration.
It's not a far stretch to say though that Walley's campaign position to "strengthen legal immigration" is directly related to his job with St. Francis. Not much different than Bill Lee's personal agenda to shove the refugee resettlement program on all of Tennessee's counties.
It also means that Walley is not likely to support any efforts by the Tennessee General Assembly to address the issue of the federal government forcing Tennessee to pay for refugee resettlement costs. Sen. Steve Dickerson whose campaign was "I'm a different kind of Republican," was the only Republican Senator to vote against suing the federal government for forcing the state to pay the federal government's share of costs for the refugee program.
Gresham was first elected in 2003, to the House where she served for 6 years, and then was elected to the Senate in 2009, where she will have served for 12 years by the time she retires her seat in November.
Could be happy times for Governor Lee if a like-minded refugee program expansionist won the Senate seat.
Voters in Walley's district need to get busy asking him questions.
Rutherford Reader
by Pat Hamsa
The Community Oversight Board (COB), a funded arm of the Metro Nashville government says there are 31,000 illegal aliens living and working in Davidson County.
A 2019 ranking by Pew puts the Nashville-Davidson-Murfreesboro-Franklin area as 50th out of 182 of the nation's metro areas with the highest number of illegal aliens which of course, they incorrectly label "unauthorized immigrants.
The COB run by anti-police-pro-open-borders special interest groups, hasn't let the COVID pandemic slow their efforts to use the Metro Nashville Police Department (MNPD) to obstruct Tennessee's sanctuary city law and keep illegal aliens from being found by ICE.
The COB is made up of 11 special interest "volunteers" supported by a Metro employee staff of 9 with a guaranteed annual budget of $1.5 million dollars. So of course Nashville's Mayor must have his 32% property tax increase and state grant dollars to keep this special interest engine running.
In mid April the COB issued a report titled Policy Advisory Report Examining Local Law Enforcement Policies and Immigration Enforcement Actions.  
The core agenda of groups like TIRRC and Conexion Americas is now institutionalized in the Metro government and because Nashville gets a lion's share of state dollars, for example, in education funds for English Language Learners and economic and community development grants, the COB's agenda is being funded by all Tennesseans, not just those who live in Davidson County.
Not surprisingly, the COB report was requested by Andres Martinez, the vice-chair of the COB. He also happens to be the Director of Policy and Communications for Conexion Americas, a Nashville organization and affiliate of the National Council of La Raza. This is the organization that gubernatorial candidate La Raza Randy Boyd funded with a quarter of a million dollars. For this and other reasons, thank goodness he didn't win. 
(As an aside, it's worth remembering that La Raza Randy who was practically tied at the hip to Jeb!, Bill Hagerty was also a Jeb! aficionado serving as a Jeb! delegate in 2016. And after Jeb! withdrew, Hagerty flipped to Marco Rubio. So in fact, Trump was Hagerty's last choice.)
A deep dive into the COB report shows that they are pushing for the MNPD to adopt four policies that will help illegal aliens in Nashville go undetected and to ignore the state's sanctuary city law:
Equally concerning about the COB report is the glowing reference to a resolution adopted by the Austin City Council after Texas passed a very strong sanctuary city law which was subsequently ruled as Constitutional by a federal appeals court. The Austin City Council resolution was specifically intended to obstruct and skirt the state's law.
Nashville Mayor's Immigration Task Force is also recommending that the Metro Council adopt the Austin City Council resolution. If that happens, expect to see the same in Knoxville, Chattanooga and Memphis.
Any chance the Governor's office has any clue what's going on in Metro? Didn't Bill Lee campaign as a hawk on illegal immigration? Didn't he criticize Haslam for not signing the sanctuary city bill and said that if he were governor he would have signed it?
Many thought he actually meant what he said just like when he said he supported the state's Tenth Amendment lawsuit on refugee resettlement. Right.
The U.S. Supreme Court just issued a unanimous decision upholding the federal anti-harboring law that bars people from actively encouraging illegal immigrants to remain inside the country. Sounds like it would include actions being considered by the Metro Council and the COB on top of Tennessee's sanctuary city law.
Between 2015 and 2020, the state has given Metro Nashville $99,581,919 in fast track economic development grants. In 2017 and 2018, the state rewarded the out-of-control and irresponsible spending and illegal-alien-protectionist government in Davidson County with over $28 million dollars to recruit Philips North America and Alliance Bernstein.
Where and when does this stop?????
In November 2019, Tennessee's State Comptroller rejected Nashville's budget and issued a warning that if the county didn't fix it's financial mess, the state would take it over. The fix proposed by Mayor Cooper is a 32% property tax increase without any cuts of course to the COB $1.5 million dollar budget.
Feel free to let your state legislators and the Governor's office know what's going on in Metro Nashville – they need to put a stop to it before the radical blue island takes the whole state down.
Rutherford Reader
State Rep. Bryan Terry, MD (R-Murfreesboro) called on Gov. Bill Lee and the Department of Commerce and Insurance to ensure that the newly unemployed have their surgical health insurance coverage honored because of the moratorium on elective procedures.  Due to an unintended consequence of banning elective procedures, many Tennessee patients may have paid premiums and had valid insurance during the ban, but then they had their surgery delayed.  Now that they are unemployed, they may get stuck with the bill through no fault of their own.  Terry is working to correct that.
On March 23, Lee issued Executive Order 18 which banned all elective surgeries in Tennessee to conserve personal protective equipment (PPE).  Prior to and during the ban, insurers have been approving elective surgeries through a process called "prior authorization".  It is a process by which insurers agree to pay for the procedure or surgery of the insured.  While Governor Lee did urge insurers to uphold their coverage commitments to Tennesseans, unfortunately, many Tennesseans have lost their job or their employers have not been able to continue paying premiums.  This means that the insurance policy that was valid prior to or during the ban may no longer be valid.  This situation places patients, providers, and facilities in a bind.
Explained Rep. Terry, "Through no fault of their own, we have newly unemployed individuals who needed surgery and had valid insurance, but now they are in a situation where they are at the mercy and grace of the insurers.  Premiums were paid.  Providers were willing to operate, but the COVID-19 pandemic halted their medical care.  The state needs to ensure that these patients and providers aren't punished by a government decision.  Those commitments need to be honored."
Many patients who were scheduled to have necessary, but elective medical or dental procedures before Gov. Bill Lee's executive order halting all non-emergency procedures may now be left to cancel or pay out of pocket for previously approved procedures unless action is taken to address the issue.  While some insurance companies are offering extensions for these prior authorizations or grace periods to catch up on premiums, there isn't any guarantee that patients won't receive a bill or providers won't be reimbursed.
In a letter to Lee and Hodgen Mainda, Commissioner for the Tennessee Department of Commerce and Insurance, Terry suggested a recoupment moratorium could be put in place for surgeries approved prior to or during the halting of elective surgeries brought through Executive Order 18.  Terry said this would not only help patients, but also hospitals and medical or dental practices that have experienced major financial setbacks as a result of the cancellations and postponements of elective surgical procedures.
"TennCare has frozen their termination process and they are going to honor those commitments to patients.  Private insurance carriers who took the premiums should do the same," said Terry.  "I understand that Governor Lee urged a grace period and some insurers have said they will comply.  But patients and practices need guarantees during these uncertain times.  They do not need additional financial burdens and hardships when they are complying with Executive Orders."
Terry said that he is working with Commissioner Mainda, Speaker Cameron Sexton (R-Crossville), and Insurance Chairman Robin Smith (R-Hixson) on the issue and has offered guidance and solutions.  "With over 400,000 newly unemployed, as well as businesses that need time to catch back up after they reopen, the state doesn't know how big of a problem that this is.  With the state reopening elective surgery on May 1st, time is of the essence and this issue needs to be addressed properly and expeditiously by the state."
Rep. Bryan Terry, MD represents District 48 which is the eastern half of Rutherford County.  His office can be contacted at 615-741-2180 or Rep.Bryan.Terry@Capitol.Tn.Gov
Rutherford Reader
Tennessee State Parks will reopen most of its 56 state parks on Friday, April 24, for day-use only. Specific details on which parks will reopen will be available on tnstateparks.com this week.
"We are eager to serve once again but we urge Tennesseans to continue to practice physical distancing when visiting parks," Jim Bryson, deputy commissioner of the Tennessee Department of Environment and Conservation, said. "We have implemented policies designed to prevent the spread of COVID-19, and we will monitor all aspects of the issue to ensure safety among visitors and our staff."
When considering a visit, Tennessee State Parks encourages the following:
•  Stay at home if you are sick or do not feel well.
•  Maintain at least six feet of distance between you and other visitors.
•  Visit parks that are only a short distance from your home.
•  Consider visiting earlier in the day so you can adjust plans if a park is full.
•  Tennessee State Parks may limit access to certain parks or areas if capacity is reached.
•  Plan ahead. Many Tennessee State Parks buildings will be closed.
•  Plan to bring your own snacks, water and hand sanitizer.
•  Prepare for limited or no bathroom access. Some restrooms remain open, but many will not.
•  Consider bringing a mask and wearing it when around other people.
•  Dispose of trash in appropriate containers to help keep cleaning staff safe and TN parks litter-free.
Keep in mind that overcrowding may cause entire parks or portions of parks to close again.
Facilities and gathering areas, including pavilions and playgrounds, will remain closed. Cabins, lodges, restaurants, campgrounds, and group camps remain closed.
For up-to-date information on park closure please visit www.tnstateparks.com.
Rutherford Reader
Members of Metro Nashville's Community Oversight Board demanded this week that Metro Nashville Police Department (MNPD) officers stop asking people about their immigration and citizenship status.
COB members also demanded that MNPD keep tabs on what U.S. Immigration and Customs Enforcement officers do in Davidson County.
This, according to the COB's first policy advisory report, which they plan to present to MNPD Chief Steve Anderson.
"The MNPD should create and implement policies that discourage police officers from asking about immigration or citizenship status," according to the COB report.
"If an officer does ask about immigration status or citizenship status, they should be required to document that they asked and provide a justification for the question in their report narratives."
COB members also want MNPD officers to document whenever federal immigration enforcement officials call on them during their enforcement actions in Davidson County, the report said.
"Given recent high-profile events involving federal immigration enforcement officials and Metro Government first responders within the Nashville community, DEC and MNPD should better document incidents in which federal agencies call for local law enforcement assistance," according to the report.
"By keeping records that accurately capture these instances, Metro government officials can better assess the impact that these calls are having on the community as well as keep track of the Metro government resources expended on such requests."
According to a COB press release, board members want Anderson to adopt their recommendations. Per its charter, COB members can issue policy advisory reports and recommendations to agencies involved in public safety and the administration of justice in Nashville and Davidson County.
COB Vice Chair Andrés Martinéz requested the policy advisory report, according to the press release.
The approved version of the report, Policy Advisory Report Examining Local Law Enforcement Policies and Immigration Enforcement Actions  is available for the public to read on the COB website.
Rutherford Reader
Gov. Bill Lee on Monday announced he would not extend his Safer at Home Executive Order beyond April 30, and his administration is working with the Economic Recovery Group (ERG) to safely begin reopening Tennessee's businesses. State Rep. Bryan Terry (R-Murfreesboro) has been selected to serve as a member of a health care advisory group, which will assist the ERG in developing recommendations and guidelines to continue safeguarding workers in the health industry as part of this phased economic reboot.
"It is an honor and a privilege to serve my colleagues in the health care industry and my fellow Tennesseans in providing assistance to the Economic Recovery Group during this critical time," said Terry, an anesthesiologist from Murfreesboro. "Governor Lee and his team believe that Tennessee is in a position to do a phased reopening, and I look forward to assisting in this effort."
Comprised of representatives from state departments, members of the legislature and leaders from the private sector, the ERG is working together to safely reboot Tennessee's economy during the coronavirus pandemic.  This effort is in cooperation with the White House, which has begun coordinating a phased reopening of the nation's industries one region at a time.
"COVID-19 has not only created a public health crisis, it has hurt thousands of businesses and hundreds of thousands of hardworking Tennesseans," said Lee. "As we work to safely open Tennessee's economy, this group will provide guidance to industries across the state on the best ways to get Tennesseans back to work."
Industry representatives working with the ERG collectively represent Tennessee's major industries, including retail, banking, agriculture, manufacturing, health care and small business. They will offer guidance for transition specific to their industry.
Bryan Terry, MD represents Tennessee House District 48, which is the eastern portion of Rutherford County and a portion of Murfreesboro. Terry lives in Murfreesboro and can be reached by email at: Rep.Bryan.Terry@capitol.tn.govor by calling 615-741-2180.
Rutherford Reader
Govenor Bill Lee has urged schools to remain closed until March 31st. We stanchly support the Governor in his efforts to stop the spread of the coronavirus here in Tennessee by encouraging school districts to close through the end of the month to protect the health and wellbeing of Tennessee's students, teachers, and entire communities across the state.
US Representative from Tennessee Mark Green said, "The COVID-19 outbreak is an international health crisis that will require an unprecedented response, and our Nation's schools are facing extreme difficulties in the face of this pandemic, including sending their students home indefinitely. The gravity of the situation schools are facing navigating the COVID-19 pandemic creates an undue burden for preparing and administering statewide assessments."  To wholly protect educators and students from the effects of the COVID-19 pandemic, the Tennessee General Assembly must take a few additional steps for public education:
    •       Attendance: The state must waive attendance requirements and excuse the chronic absenteeism of students. The legislature should also consider waivers for the instructional day requirement for districts.
    •       TNReady: Stop standardized testing for this academic year. They should also ask the Department of Education to immediately enter into negotiations to suspend the contract with our current testing vendor to save taxpayer dollars. That contract should be extended to fulfill our obligations. This means, as Representative Scott Cepicky has suggested, that the Commissioner of Education must request a waiver from the Federal Government on testing, which we have suggested and endorse. When schools resume, teachers should be free to teach, and re-teach if necessary, without the burden of testing.
    •
    •       Hold Harmless: We must ensure that "no adverse action may be taken" against any student, teacher, school, or district based on results from the cancelation of state standardized tests. This also means that no assessment will impact students' final grades. The lack of assessment results should not be used for any decisions related to hiring, firing, or not compensating teachers. We should also prohibit identifying a school as a "priority school" in Tennessee's bottom 5 percent, the starting point for state intervention, although a district should be free to request any assistance for schools that self-identify and are in need.
Tennessee is a resilient state made up of incredible people with a generous spirit. We will defeat COVID-19, the coronavirus. However, each of us must remain vigilant in our efforts to combat and help prevent the spread of all respiratory viruses (Coronavirus or the flu) by maintaining high standards of hygiene and using common sense. We are confident that district leaders will continue to make the right decisions for their communities with the support of our Governor and Legislature.